Golf - GPS - Time - Fitness
The SkyCaddie® SW2 is the next generation of the bestselling SkyCaddie Watch. With a slimmer design, extended battery life and built-in Bluetooth® Smart technology, the SW2 is ideal for golfers looking for quick distances to the front, center and back of each green.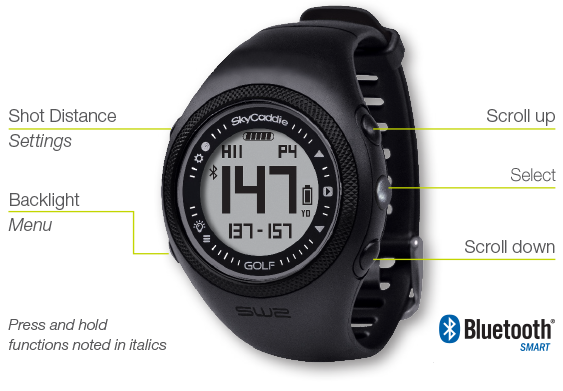 NO ANNUAL FEES REQUIRED

35,000 Preloaded Courses. Enjoy distances you can trust to play your best golf with Golf's most reliable course library

Powerful GPS Engine Increases SkyCaddie Mobile's Accuracy Up To 300% Over All Other Mobile Apps. The SW2 watch replaces your smartphone's location services to provide distances you can trust... and conserves battery, too!*

Slim, lightweight profile

Improved lithium-ion rechargeable battery lasts up to 13 hours in Play Mode (GPS on) or 40 days in Time Mode (GPS off) on a full charge

Bluetooth® Smart Technology enables the watch and app to stay perfectly synchronized to keep both on the same course, the same hole and the same location from tee to green.

Ready-to-play with SkyGolf's entire worldwide library of TrueGround® Course Maps preloaded

Intelligent Automation features — Auto-Course Detection, Auto-Hole Advance and Auto-Distance Update — provide a virtually hands-free experience

Digital scoring

Measure shot distance

Pace-of-play timer lets you time each round

Multi-sport odometer tracks location, distance, time, laps, speed, pace and calories burned during a run, walk or bike ride

SkyGolf 360™ Ready*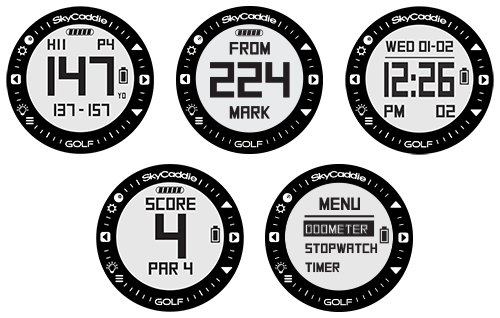 Expand Your View From The SW2 To The SkyCaddie Mobile App With a Membership Plan
The SW2 watch is able to wirelessly pair with the SkyCaddie Mobile app to deliver the convenience of a GPS watch, the vivid landscapes of the SkyCaddie Mobile GPS app and the accuracy of a SkyCaddie. The SkyCaddie® Mobile™ app uses the powerful GPS engine of the watch to stay synchronized on the same course, same hole and precise location. So when you need more information or a better view of what's ahead, the app delivers the entire hole in stunning HD graphics with the accuracy of a SkyCaddie.*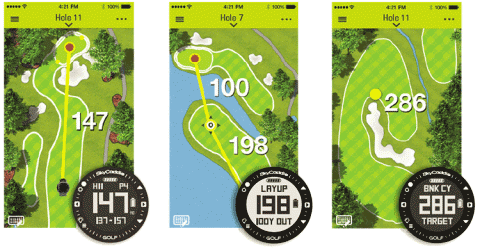 TrueGround Course Maps*
Only SkyGolf walks every course with professional survey-grade equipment to create the most-complete, most-reliable and most-precise course maps in the game.

 

Interactive HoleVue in Vivid HD*
Play faster with an eagles's eye view of the entire hole. With a simple TAP on the screen, measure to any point on the hole and get the critical information you need to layup in front of, or carry, hazards.

 

Integrated Targets*
Up to 40 geo-referenced targets per hole are integrated within HoleVue. Simply pinch and zoom HoleVue to seamlessly reveal the critical distances to all hazards, carries and layups — not just a few calculated layup yardages provided in other apps... all without changing screens to a list of targets that are hard to understand.

 

Detailed Green Information*
View the exact shape of the green and get distances to the Front, Center and Back from anywhere on the course.

 

Advanced Scoring & Stat Tracking*
Track your game like a Pro with Advanced Stats including Scoring Average, Fairway Percentage, Greens in Regulation Percentage, Putting Average, Scrambling Percentage, Driving Distance, Sand Saves Percentage, Number of Chips, 3-Putt Avoidance, Bounce Back Percentage, plus more!

 
---
Download SkyCaddie Mobile
Please click one of the buttons below to go to the Apple App Store (iOS) or Google Play Store (Android) to download the SkyCaddie Mobile app to your smartphone. To unlock SkyCaddie Mobile's Premium features, so you will need to have a SkyGolf 360 Premium, SkyGolf 360 Premium Plus, or Double Eagle membership plan.
* Requires SkyCaddie Mobile Premium, available through SkyGolf 360 Premium, SkyGolf 360 Premium Plus, and Double Eagle membership plans.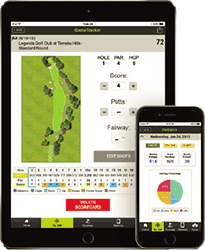 With SkyGolf 360, Your Game Is Just a Touch Away!
All of your scorecard data on SkyCaddie Mobile is wirelessly uploaded to your My 360 personal performance locker within the SkyGolf 360 Cloud. Once uploaded, you can review your performance from any mobile or desktop device, without the need for a cable!*
Gain insight with advanced scoring and stats: fairways hit, GIRs, putts per round/hole, and more!

Identify your game's strengths and weaknesses using post-round game analysis tools

Manage your account: Activate, transfer, upgrade and renew memberships

Access and redeem your member benefits

Search and manage TrueGround Course maps for your SkyCaddie rangefinder

Share scores, stats and chat with friends on the news feed

Book tee times at participating public and private golf courses
---
Share your round in real-time with live scoring
Automatically share your round in real-time with friends, family, coaches or your golf instructor. The scores you capture on-course are automatically sent to the SkyGolf 360™ Cloud so your friends can follow your round from the first tee to the 18th green.
---
Comprehensive and flexible stat tracking
Designed to be fun and flexible, SkyGolf 360 lets you track as many or as few stats as you want – over 50 stats in all! That's more than four times the stats offered by the competition. All data from SkyCaddie Mobile is automatically sent to the SkyGolf 360™ Cloud, where simple, easy-to-understand charts and graphs help identify strengths and weaknesses in your game.
Unmatched accuracy begins with high-precision, ground-corrected course maps...
Only from SkyCaddie!
No Tour Player uses yardage books derived from satellite images or flyovers. Neither should you. Other GPS rangefinders use second and third generation maps derived from third-party aerial imagery known to contain errors.
SkyGolf takes no such shortcuts when it comes to your game. Only SkyGolf walks every course with professional-grade survey equipment to create original course maps, accurate within 1 yard. SkyGolf provides the most complete, most reliable and most precise course maps in the game. Get instant yardages quickly and easily without aiming a laser, overshooting the pin or guessing. The SkyCaddie SW2 will give you yardages to the green, even if you can't see it! Try doing that with a laser rangefinder!
You can trust your SkyCaddie, just like Tour Players trust their caddie.
What's Included
SkyCaddie® SW2 GPS watch

Charging cable

User documentation
---
SkyCaddie Mobile App Requirements**
SkyCaddie® Mobile GPS app on a smartphone with iOS 7 OR Android® 4.4 or higher**

Download SkyCaddie Mobile app free from the App Store or Google Play Store
** Compatibility with Android devices may vary.
Protect Your SkyCaddie Purchase
6-Month Consumer Limited Warranty
Each new SkyCaddie product purchased in the U.S. comes with a 6-month Consumer Limited Warranty.
---
Upgrade to a 12-Month SkyCaddie Extended Warranty
The SkyGolf Extended Warranty extends the standard 6-month consumer limited warranty to a 12-month warranty against defects in materials and workmanship. Only new SkyCaddie products registered with SkyGolf within 30 days of a U.S. purchase are eligible.
See terms and conditions.